Submitted by

Admin

on Sun, 07/09/2017 - 11:45
The Odisha Community Japan (NPO) celebrated 10th year of Rath Yatra at Kawasaki city Japan on 25th June Sunday. During the event, a 3-meter tall chariot with the deities of Lord Jagannath, Balabhadra , Devi subhadra and shree sudarshan was pulled by around 500 participants on the busy street near Kawasaki station. The devotees celebrated the chariot festival with much fanfare amid hymns on the streets of Kawasaki.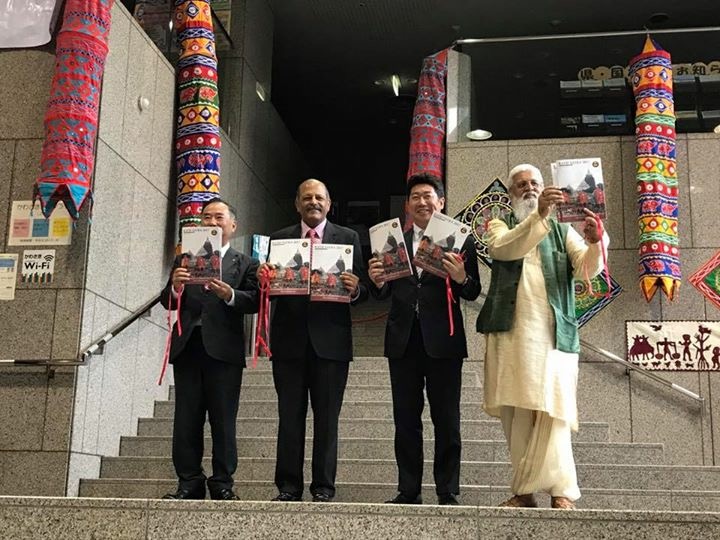 Earlier in the day the three deities were worshiped by hundreds of devotees with all Hindu traditions. Many Odia delicacies like khaja, kurma, laddu, podapitha made by
Odisha Community Japan (OCJ) members were offered to lords. Then the lords were taken to the decorated chariot with traditional pahandi along with the music of ghanta, jhanja,sankha hulahuli.
Chera phanhara was done in a traditional manner by Mr Miura, Deputy Mayor of Kawasaki city . Then H.E ambassador Of India to Japan started pulling of chariot with hundreds of Japanese and Indian devotees by breaking a coconut. Jai jagannath chanting was roaring the main street of Kawasaki.
Before the chariot pulling, Indian Ambassador to Japan H.E Mr Sujan R Chinoy and Kawasaki City Mayor Mr Norihiko Fukuda addressed the gathering and inaugurated a souvenir commemorating the 10th year of NPO OCJ Ratha jatra. H.E sujan R chinoy praised the efforts of OCJ to showcase the Indian tradition and culture in Japan and hoped this festival will strengthen the relationship between Indian and Japanese communities further.
Kawasaki city Mayor Mr Norihiko Fukuda said he was happy to host the Indian event Rathajatra in kawasaki every year for last 6 years in a row and wishes to see more and more Indian residents living in Kawasaki in future.
President of OCJ Mr Bikash mohanty thanked everybody for their cooperation and support.
In addition to the chariot pulling, spectacular display of Indian folk and cultural dance mesmerized many. Odissi dance by Ms Sachiko Ito in front of lord Jagannath brought a divine feeling. Dasavatara performed by Odissi dancers Chisato Miura and Kajal Mishra made the audience spellbound. Odia girl Santwana and friends performed rangabati and bandeutkal Janani, which reminded us to our roots. Santoshi and Sai sang bhajans and created a devotional atmosphere around. Kirtan of ISKON members brought the atmosphere of a Devine feeling. And many more cultural programs like Lathak bharatnatyam semiclasical and Bhangra were performed to showcase rich Indian cultural traditions. Stage coordination was done very effectively by OCJ cultural secretary Mrs. Jullie behera .
Prasad and dinner were distributed after the chariot pulling.